Sweet potatoes are great for those times you need a nice veggie side dish, but you've kind of got vegetable fatigue. There are only so many vegetables, and only so many ways to prepare them. But sweet potaoes are delicious no matter how you prepare them. The rosemary sprigs elevate this dish to star status. Watch your family devour these sweet potato chunks lickety split.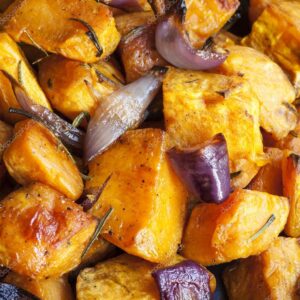 Roasted Sweet Potatoes and Onion Chunks with Rosemary
Rosemary may seem an unlikely partner for sweet potatoes, but the flavors work surprisingly well together. Roasting brings out the natural sweetness of the sweet potatoes and onions. Make sure you keep the root ends of the onions, intact, for more even cooking and a beautiful presentation.
Ingredients
4 medium-sized sweet potatoes, peeled and cut into chunks

2 large onions, each cut into 8 wedges, root ends left intact

4 tablespoons olive oil

6 sprigs of rosemary

Salt and freshly ground black pepper to taste
Instructions
Line with foil a baking sheet with low sides. Grease lightly.

In a large bowl, combine sweet potatoes and onion wedges in a bowl and add olive oil. Toss gently to coat vegetables with the oil, taking care not to break up the onion wedges.

Add the rosemary sprigs and salt and pepper to taste, and toss gently once more.

Spread the vegetable mixture on the prepared pan in a single layer.

Roast for 30 minutes, turning the vegetables halfway through the baking time.

Remove from oven. Taste for seasoning and adjust as necessary with additional salt and pepper.