Mishmash pasta was born of a need to find a new way to serve pasta to my family. They were sick of pasta, but pasta is easy, quick, filling, and inexpensive. Which is the reason I was determined to invent something different to pique their flagging appetite for pasta. The result of my experiment was this wonderful, chunky, melty, richly-sauced pasta that the cook literally throws together in one big bowl. Easy peasy. And delicious.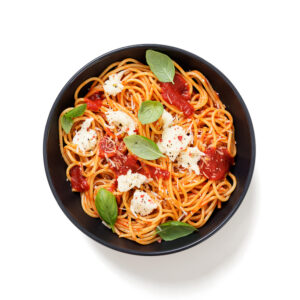 Mishmash Pasta
Loaded with chopped tomatoes, basil, gruyere and cottage cheese, this dish is rich pasta heaven in a bowl. Put all the sauce ingredients together while you're waitingfor the pasta water to come to a boil. Serve with a tossed green salad and you'regood to go for supper.
Ingredients
1 lb. fusilli or other pasta of choice

1 14.5 oz. can chopped tomatoes

1 lb. gruyere cheese, cut into 1-inch cubes

¼ teaspoon crushed red pepper flakes

½ teaspoon dried oregano

½ teaspoon ground fennel seed

½ teaspoon granulated garlic

¼ teaspoon freshly ground black pepper or to taste

1 1/2 teaspoons salt or to taste

½ cup olive oil

1 lb. large curd cottage cheese

1 bunch basil, leaves torn
Instructions
In large pot over high heat, bring salted water to a boil.

While water is heating, pour can of tomatoes in large bowl, with juices. Top with cheese chunks, do not stir. Sprinkle with all the seasonings. Pour the olive oil over the top of the tomatoes, cheese, and seasonings. Do not stir. Top with cottage cheese. Set aside.

Boil pasta until al dente. Drain. Add to bowl with tomato-cheese mixture. Stir well.

Add torn basil leaves, gently toss. Taste for seasoning.