Garlic knots are a garlic bread lover's dream, because instead of a crunchy slice with a moist inside, each little soft through and through individual knot is moist with garlic oil and you don't have to share it with anyone (always a plus!). On baking days, I like to take some of my challah dough to make these treats for my family. Luckily this recipe makes enough of them that even I can't finish them off without sharing some with my loved ones. And best of all, they're parve.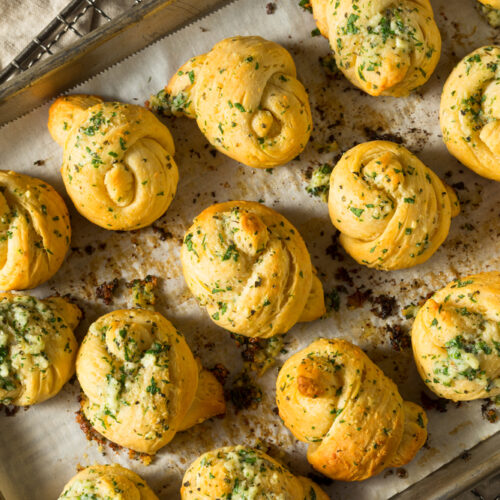 Challah Dough Garlic Knots
These little garlic knots are a wonderful treat for the family on baking day, or do what I do and freeze the unrisen knots, unbaked, to pull out and finish baking when you have guests coming over--leave lots of time for rising. They're irresistible to everyone but confirmed garlic haters. And if everyone eats them, no one will notice the garlic on YOUR breath, after indulging yourself with these wonderful, garlicky, individual rolls.
Ingredients
Instructions
Divide challah dough in half and roll each half into a large rectangle. Using a pizza cutter, cut the rectangle in half and then into one-inch (2.5-cm) strips. Each rectangle will yield 16 strips, for a total of 32 knots. Roll each strip of dough into a rope and twist into a knot (similar to a small challah roll). Continue with remaining dough. Place knots on 2-3 cookie sheets.

Brush knots with 3 tablespoons of the olive oil and let rise for approximately half an hour. Halfway through the rising, preheat the oven to 400°F (200°C).

Meanwhile, prepare the garlic oil. Place remaining 6 tablespoons of olive oil in a small saucepan, with the garlic. Cook the garlic gently in the oil on low heat for 3 minutes. Add the parsley and salt. Mix together. Remove from heat and set aside.

After the dough knots have risen, bake for 14 minutes, turning the baking sheet after seven minutes. Remove knots from oven and toss in large bowl with the garlic oil mixture while still hot.
Notes
To freeze: Complete step one. Freeze knots, not yet risen, in a single layer on a cookie sheet. Once frozen, transfer the knots to a plastic bags, removing as much air from the bag, as possible.
To bake frozen rolls: Take out as many rolls as you will need, and place on cookie sheets. Proceed with the recipe, beginning with step two. Allow the knots to rise for 4-5 hours. Preheat the oven 20 minutes before the knots are fully risen.