You're tired after a hard day's work and in no mood to cook. But hungry mouths await dinner, including your own. So you pull out this recipe, and you've got dinner ready in under half an hour, depending on how quickly you can chop a couple of leeks, an onion, and a potato. Add some crusty bread and good butter and you're good to go, and so's your family.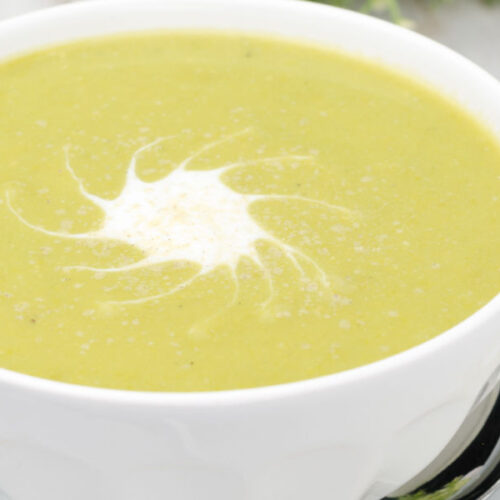 Leek and Potato Soup
A creamy bowl of comfort soup never hurt anyone and this leek and potato soup fits the bill. Not to mention you can have a mugful in your hand, or a lovely bowlful accompanied by bread and butter in under 30 minutes.
Ingredients
1 tablespoon corn or safflower oil

1 sweet onion, such as Vidalia, sliced

1 large boiling or all-purpose potato, peeled and cubed

2 medium leeks, washed well and sliced, white and light green parts, only

4 cups parve chicken stock, made from powder or bouillon cubes and boiling water

6 ounces (150 ml) sweet cream, divided

Salt and pepper
Instructions
Heat oil in Dutch oven over high heat. Add onions, leeks, and potatoes. Sauté for 3-4 minutes, until onions and leeks have sweated a bit and are just beginning to soften.

Add the parve chicken stock and bring to a boil. Add salt and pepper to taste—it will take more than you think.

Using an immersion blender, blend to a creamy pureé. Stir in cream, reserving about 2 tablespoons for your presentation.

To serve, ladle soup into bowls and gently pour about half a tablespoon of the reserved cream into the center of each bowl. Take a knife tip and run it through the cream to create a decorative streak or swirl. Nice with bread and butter on the side.