One of the easiest lunches one can prepare is this juicy Middle Eastern-style roast chicken. You rub a whole chicken with simple ingredients you likely already have on hand. Add some yellow rice with peas and you're good to go. Make sure you give the chicken 15 minutes to rest before carving to keep the juices in, for the juiciest chicken around.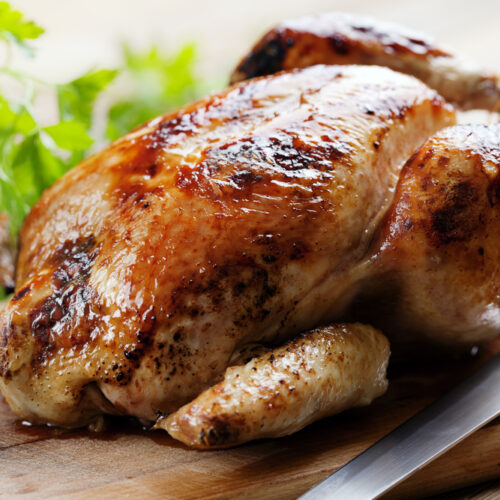 Easy, Juicy, Middle Eastern-Style Roast Chicken
The most delicious, juicy chicken you can imagine, redolent with lemon, garlic, and cumin. Serve over rice with a salad on the side, for an easy lunch or dinner.
Ingredients
1 large chicken

2 tablespoons olive oil

Juice of ½ lemon

2 cloves garlic, pressed

2 teaspoons cumin

Salt and pepper to taste
Instructions
Combine the olive oil, lemon juice, garlic, cumin, and salt and pepper to taste.

Rub the chicken inside and out with the marinade.

Roast the chicken, breast side down for 45 minutes.

Turn the chicken over and roast breast side up for a further 45 minutes.

Allow the chicken to rest for 15 minutes to help retain the juices.

Carve the chicken and serve over rice. Spoon the juices over the chicken and rice or serve separately.