Fruit crumble isn't something I ever thought to make, especially Erev Shabbos. But one Friday, I had some fruit that wasn't going to last even one more day, and it was too much fruit to simply toss—it would have been criminal to do so. So I thought: maybe I can make some sort of crumble with it.
I devised a crumble by looking at pie fillings and streusels, thinking I'd combine the two and voila, crumble. Inspired, right? And it worked. So well that my family begs me to make fruit crumble again each week!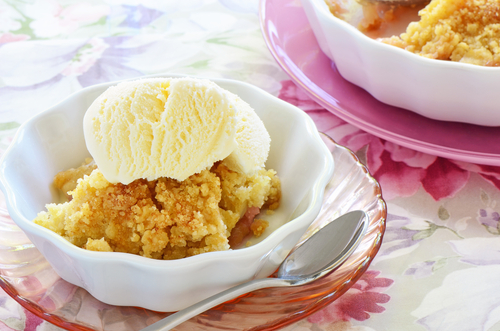 Fruit Crumble Master Recipe
This fruit crumble recipe can be adapted for use with a variety of fruits. If the fruit is very juicy, use more cornstarch; if very sweet, less sugar and more lemon juice. However you make the crumble it will be delicious. Watch fruit crumble quickly become a Friday night tradition!
Ingredients
For the filling
6 cups of fruit

1/2 to 1 cup granulated sugar (use larger amount for tart fruit)

1 to 3 teaspoons freshly squeezed lemon juice (use larger amount for sweeter fruit)

1 to 4 tablespoons cornstarch (use larger amount for juicier fruit)

½ teaspoon cinnamon

¼ teaspoon ginger

¼ teaspoon nutmeg
For the topping:
1 cup all-purpose flour

1/2 cup packed light brown sugar

1 teaspoon baking powder

1/2 teaspoon ground cinnamon

1/4 teaspoon salt

½ cup butter or margarine, softened
Instructions
Grease a 9x9-inch baking dish. Set aside.

Peel, core, pit, and/or stem the fruit as necessary, and cut into bite-sized pieces.

Toss fruit with remaining filling ingredients in large bowl. Pour the filling mixture into the prepared baking dish.

While the oven is preheating, prepare the crumble topping. Whisk together all the dry ingredients for the topping in a large bowl.

Using a pastry blender or your fingers, cut or work the butter or margarine into the dry ingredients until large crumbs form.

Scatter the crumble topping over the fruit mixture, in an even layer. 

Bake until top is firm and the filling bubbles up through the topping at the edges of the baking dish.

Cool at least 15 minutes before serving.
Notes
To make an Erev Shabbos fruit crumble, prepare the crumble at the end of your Friday cooking stint, turn off the oven, and leave the crumble inside until dessert. The crumble will stay warm.
Serve crumble à la mode with dairy or nondairy ice cream, or top it with a dollop of sweetened whipped dairy or nondairy cream.
Store fruit crumble for up to one week in the refrigerator.
Serve the crumble warm, room temperature, or cold. The crumble can be reheated in a 300°F oven for 20 minutes or so.
Fruit crumble can also be made in a 9x13-inch pan, using 10 cups of fruit, and increasing all remaining filling ingredients by one-third. The topping should be increased by half (1 ½ cups flour and so on).