Cookies are a favorite anytime, and one of the best cookie recipes in my file box is for these white chocolate chip cranberry oatmeal cookies. Soft and chewy, these cookies are everything. The combination of ingredients is startling until you taste them. Then you'll know how well these flavors mesh.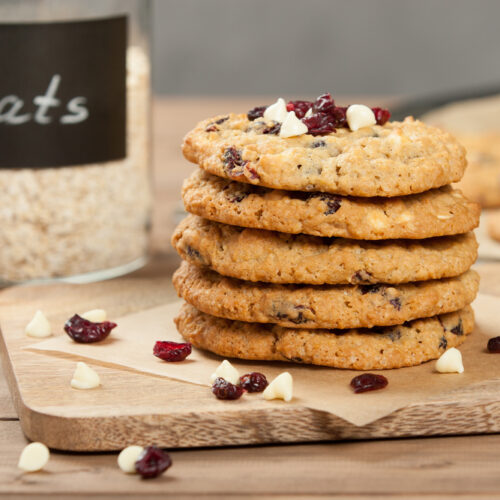 White Chocolate Chip Cranberry Oatmeal Cookies
Studded with white chocolate chips and plumped up craisins, these soft oatmeal cookies have a well-balanced, yet surprising flavor profile. The craisins and oatmeal also lend the illusion that cookies are somehow nutritious, a dubious assertion. Don't let that deter you from making—and eating—these cookies.
Ingredients
3⁄4 cup sugar

1⁄4 cup packed brown sugar

1⁄2 cup butter or margarine, softened

1 large egg

1⁄2 teaspoon vanilla extract

1⁄2 teaspoon cinnamon

1⁄2 teaspoon baking soda

1⁄4 teaspoon salt

1 cup all-purpose flour

1 1⁄2 cups quick-cooking oats 

3⁄4 cup dried cranberries soaked in hot water for 10 minutes, drained

6 ounces white chocolate chips
Instructions
In a large bowl, cream the butter or margarine with the sugar and brown sugar until creamy and well-combined

Add egg and vanilla extract and beat until well-mixed.

Place the flour, salt, baking soda, and cinnamon in a small bowl, and stir to mix.

Fold in the oatmeal, dried cranberries and white chocolate chips to evenly distribute them throughout the cookie batter.

Roll into 1-inch balls and place them 3 inches apart on baking sheet. Bake for 10-12 minutes or until the edges are light golden brown.

Remove the cookies from the oven and after 2-3 minutes, transfer the cookies to a cake rack to cool.