Mac and Cheese is probably in the top five of your comfort food list. It certainly is in ours. Creamy delicious mac and cheese is good as is, but even better baked in a casserole with a cornflake crumb topping. Make this version and watch them fight over the golden crunchy crust.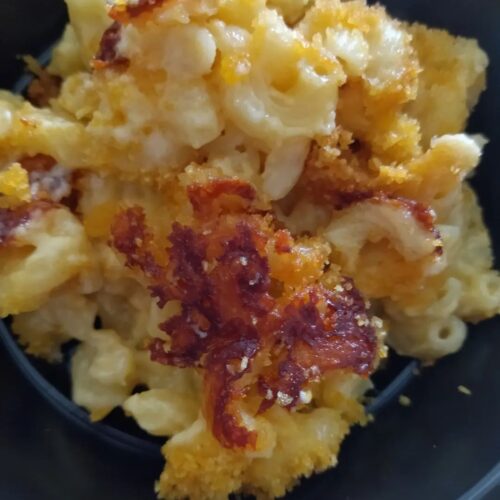 Old Fashioned Baked Mac and Cheese
This classic baked macaroni and cheese casserole dish is topped with buttery cornflake crumbs. Don't be daunted by the necessity of making a cheese sauce from scratch. It's really not that difficult, and the creamy results are well worth the extra effort.
Ingredients
16 ounces elbow macaroni

9 tablespoons butter

6 tablespoons flour

1 cup cream

2 cups milk

½ teaspoon salt (plus more for the pasta cooking water)

¼ teaspoons ground black pepper

¼ teaspoons ground mustard

⅛ teaspoon cayenne pepper

8 ounces gouda cheese, shredded

8 ounces white or mild cheddar cheese, shredded

2 cups cornflake crumbs

2 tablespoons butter, melted

¼ teaspoon paprika
Instructions
Grease a large casserole dish with 1 tablespoon of the butter, set aside.  Preheat oven to 350°F.

Fill a large pot with 2 quarts of water. Add a scant handful of salt. Bring the water to a rolling boil. Add the macaroni, and boil until al dente, stirring occasionally. Drain and set aside.

In a large saucepan, melt the butter on medium-low heat.

Whisk in the flour and raise the heat to medium. Whisk until the mixture turns golden.

Whisk in the cream and the milk. Turn heat up to medium-high. Whisk until mixture begins to thicken. When the sauce coats the back of a spoon, turn the heat down to medium.

Whisk in the salt, black pepper, ground mustard, and cayenne pepper. 

Turn off the heat and stir in both cheeses, one handful at a time.

Add the drained macaroni to the cheese sauce and stir to combine. Place the pasta mixture into the prepared pan and smooth the top to level.

In a separate bowl, stir the paprika into the cornflake crumbs and paprika, then add the melted butter and stir thoroughly to coat the crumbs. 

Top the macaroni and sauce mixture with the prepared crumb mixture, and spread the topping lightly, to even it out.

Bake the macaroni for 30-45 minutes or until as crusty and brown as desired. 
Notes
The macaroni is ready to eat once it's mixed with the made-from-scratch cheese sauce. It just won't be BAKED macaroni and cheese, with all that lovely crust and crunch. But for those who can't wait for a taste or are on the run, the "unbaked" version of mac and cheese is pretty delicious, too.