Cabbage is a humble vegetable. It's cheap and filling, and when over the hill has an unpleasant taste and smell. But a good cook can do magic with even a poor man's vegetable. In fact, one of my go-to Shabbos side dishes is shredded cabbage cooked in goose schmaltz and seasoned with lots of salt, some ground caraway seed, and a pinch of cayenne pepper for punch.
It comes together really quickly, so a good dish to have in your recipe book for those short winter Fridays, when you have to make your quickest dishes to make it to candlelighting on time.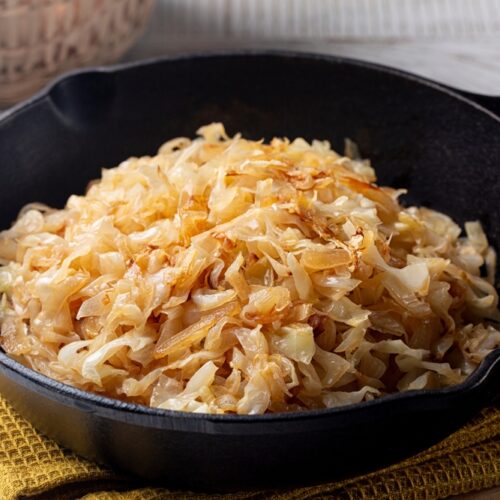 Simple, Silky, Sautéed Cabbage
This luxury Eastern European dish calls for goose schmaltz, but either chicken schmaltz or corn oil would be almost as good. The spices elevate the dish from ghetto to gourmet, without deviating from the authentic flavor profile of this silky soft cabbage dish. Serve it with plain roast chicken.
Ingredients
3 tablespoons rendered goose or chicken fat, or corn oil (in order of preference)

300 grams shredded cabbage

½ teaspoon of salt

¼ teaspoon of ground white pepper

¼ teaspoon ground caraway seed

A pinch of cayenne pepper, or more, to taste
Instructions
Heat the goose or other fat in a wide skillet over medium heat. Add cabbage and stir to coat with the hot schmaltz. Sauté, turning the mixture occasionally, until beginning to brown in places.

Add salt, stir to distribute. Repeat with remaining spices adding each one separately and stirring before adding the next. Heat briefly until the aroma rises. Taste and correct seasoning as needed.