If you're like me, when Thanksgiving was over, you stuck the turkey carcass into the freezer for a future date—perhaps to make some tummy-warming soup for a wintry day. We don't feel much like cooking after that Thanksgiving cookathon, but we figure at some point, we'll be back in the kitchen, itching to cook something delicious once more. After all, every chef knows that a turkey carcass is a treasure. Nothing makes a more delicious, deeply-flavored pot of stock or soup.
Feeling a bit under the weather, and wanting soup without a potchke, I used our turkey carcass in the following crockpot split pea soup. It took so little time to put together, and it came out amazing. It helped that I had some chicken broth in the freezer, along with that turkey carcass, lending the soup even more flavor. What can I say? It was a hit.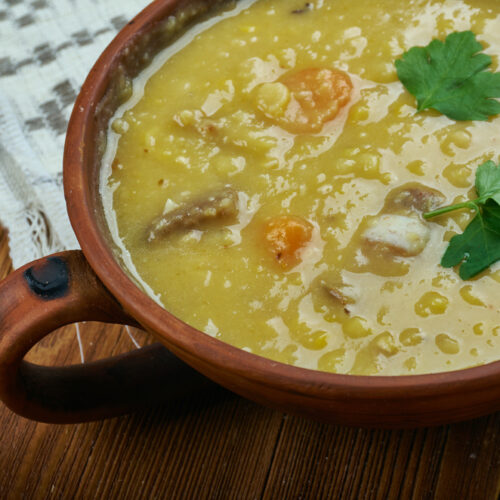 Turkey Carcass Crockpot Split Pea Soup
Got a Thanksgiving turkey carcass in your freezer? You've got gold. Make this mostly hands-off tummy-warming soup when the weather turns wintry.
Ingredients
1 (16-ounce) package dried split peas, rinsed

1 turkey carcass, split as necessary to fit your crockpot

3 medium carrots, peeled and sliced

1/2 cup chopped onion

2 stalks celery, with leaves, chopped

2 cloves garlic, minced

1 large bay leaf

1/4 cup chopped fresh parsley

1/2 teaspoon freshly ground black pepper

1 tablespoon seasoned salt

6 cups chicken stock or soup

Leftover chopped turkey meat (optional)
Instructions
Layer in order in a crockpot, all the ingredients except the optional chopped turkey meat: split peas, turkey carcass, carrots, onion, celery, garlic, bay leaf, parsley, pepper, and seasoned salt. Add the stock or soup. Do not stir.

Cover and cook on high for 4 to 5 hours or on low for 8 to10 hours until peas are very soft. Remove the turkey carcass pieces.

With a potato masher, mash the split peas a bit to thicken up the soup, or use an immersion blender, if you like it very smooth. Add the optional chopped turkey meat and heat briefly.