I had always wanted a Bundt pan. Finally, I ordered one and it arrived in time for me to try out a new cake recipe I'd seen for a Honey Beer Bundt Cake. The problem was that when I took the pan out of the box, it sure looked awful small.
My fears were realized when the batter for the 12-cup Bundt cake pan specified in the recipe, looked like way too much for the pan. It fit, but I had a nagging suspicion the cake was going to overflow. I decided it would be an experiment, and if it worked great, and if not, it would be a learning experience. I would, however, keep my oven clean by placing a baking sheet covered with parchment paper on a rack beneath the cake pan, to catch any dripping batter.
The cake looked at first as though it were going to be fine. I kept going back and forth to look at the cake, and it kept looking like it was going to make it. Until I smelled something from the other room and knew it was happening; the cake was overflowing.
Thank goodness I'd had the foresight to place that baking sheet below. No muss, no fuss.
I didn't know if the cake would still be good to eat. It looked as if it had fallen in on itself, but I decided to give it to my family as a not-quite-successful first effort. I'd make a different one later.
To that end, I sat down the next day to calculate how to scale the recipe to my pan. I did it the right way: I put the pan in the sink, and filled it with as many cups as needed to reach the top. My pan, as it turned out, was a 10-cup Bundt pan. Here it the recipe, scaled for a 10-cup Bundt pan. It's truly a gorgeous cake.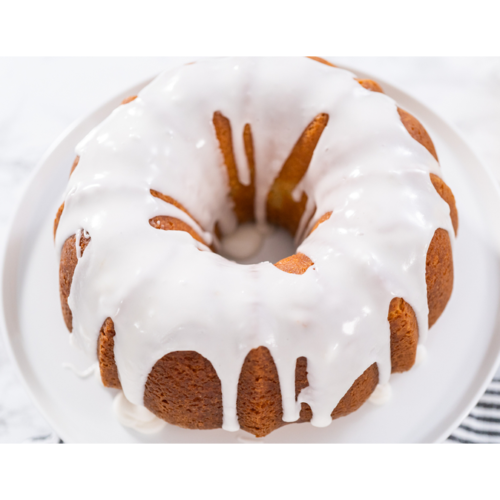 Honey Beer Bundt Cake
A moist cake with a mild honey flavor, and thatcharacteristicly delightful Bundt pan crust. Even those who hate honey cake, love thisone. (We think it's the glaze.)
Ingredients
6

tablespoons

oil

5

medium or 4 jumbo eggs

1/2

cup

sugar

3/4 cup plus 2 tablespoons honey

1 scant teaspoon baking soda

1 scant teaspoon baking powder

scant 1/2 teaspoon cinnamon

scant 1/2 teaspoon salt

1 scant teaspoon vanilla extract

2 cups plus 2 tablespoons flour

¾ cup plus 2 tablespoons beer
Glaze
¾ cup plus 2 tablespoons powdered sugar

1

scant tablespoon honey

1

scant teaspoon soy milk

1 scant teaspoon nondairy milk such as soy, oat, or almond

1 scant teaspoon lemon juice

1 scant teaspoon vanilla extract
Instructions
Grease and flour Bundt pan very well. Preheat oven to 350°F.

On medium speed, beat oil, eggs, sugar, and honey until creamy.

Add baking soda, baking powder, cinnamon, and salt, and lastly, the vanilla. Beat together briefly.

On low speed, add half the flour, followed by half of the beer, beat, mixing well after each addition, scraping the bowl as necessary to incorporate the ingredients into the batter. Repeat with remaining halves of flour and beer.

Pour batter into prepared pan; bake for 40-45 minutes, until toothpick inserted in center of cake comes out dry.

Place cake on wire rack. Cool 15 minutes. Run thin spatula or plastic knife carefully around top of rim to begin to gently separate the cake from the sides of the pan. Place second wire rack upside down over cake, and wearing oven mitts, invert the cake so that it is now upside down on the second cake rack. Cool ten minutes, then carefully lift and remove cake pan. Cool cake completely before glazing.
For the glaze:
Mix all glaze ingredients in a small bowl, adding soy milk and lemon juice as necessary to get a medium glaze that is thick but still pourable. Drizzle decoratively over cake. Allow cake to dry before slicing and serving.
To store:
Cake may be frozen, double-wrapped, with or without the glaze.