Years ago, finding myself with a surplus of juicy summer tomatoes, on the verge of becoming overripe, I decided to try my hand at making matbucha, a delicious salad, somewhere between a dip and a spread for bread. I peeled and seeded the tomatoes, and cooked them down with lots of garlic and cumin, and voila, delicious! My kids begged me to make it the next week, and the next week, and then summer tomato season was over and I soon forgot all about my foray into preparing this traditional Moroccan salad.
Fast forward, and my son asked me to make it again. Now he's a young man in his 20s, but he never forgot the tomatoey deliciousness of my Ashkenazi effort. And so I found myself in the kitchen, trying to remember how I prepared the dish, so many years ago. It was never really a recipe, but only a stab in the dark with a successful outcome. Luckily, it's a pretty foolproof thing to prepare, and the measurements aren't that difficult—it came out just as wonderful as it did back in the day, and my son was very happy!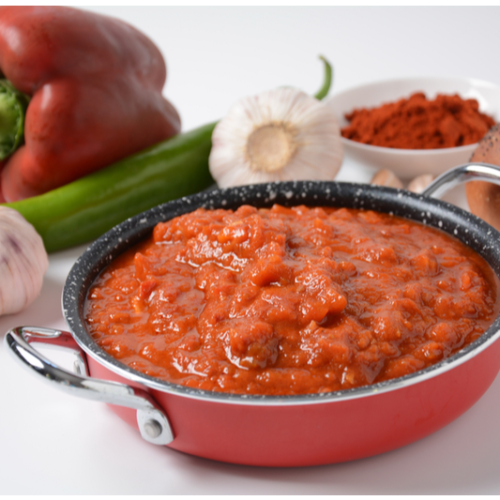 Homemade Matbuha
Served with a crusty loaf of bread, or soft challah—both are great—this is a salad that tastes like summer to perk up flagging appetites. A good and garlicky way to use up ripe tomatoes.
Ingredients
5 ripe tomatoes

1 red pepper

4 tablespoons extra-virgin olive oil

6 cloves garlic

1 ½ teaspoons ground cumin

¼ teaspoon crushed red pepper

1 teaspoon of chopped or pureed preserved lemon peel (optional)

Salt and pepper to taste
Instructions
Begin by peeling the tomatoes. Cut a shallow x in the bottom of each tomato. Bring a pot of water, large enough to hold the tomatoes, to a rolling boil. While the water is heating, prepare a large bowl of ice water, and set aside. When the water boils, add the tomatoes, and after 30 seconds, remove the tomatoes with a slotted spoon and place them briefly in the ice water to stop the cooking process. Remove tomatoes from the ice water, and using your fingers, remove the skins.

Cut each tomato crosswise, and remove the seeds, using your finger or a spoon. Roughly chop the tomatoes, place in medium bowl, and set aside.

Roast the pepper on all sides, until charred all over. You can do this under the broiler in your oven, or on the stove top. Use a set of tongs to turn the pepper as it blackens on each side. Place pepper in a plastic bag, twist the top to seal, and place top down on the counter. Leave for 15minutes.

Remove the pepper from the bag. The skin should slip off. Seed and chop. Place in bowl with tomatoes.

Mince the garlic, and heat with the cumin and garlic in the olive oil over medium low heat, stirring, just until the scent of the garlic rises up.

Add the tomatoes and peppers, and cook, stirring often, until most of the liquid has evaporated. Taste and add preserved lemon if you like, and salt and pepper to taste.

Cool and refrigerate in covered container until ready to serve.