Looking for a fish dish to serve for the second night of Rosh Hashana, I turned to a friend who had lived in Brazil for some time. "Here's a little something we used to do in Brazil," and then proceeded to dictate a recipe for a fish stew with coconut milk. The difference is my friend's version is baked, and super simple to prepare. Coconut milk forms a luscious sauce and keeps the fish moist, even on reheating.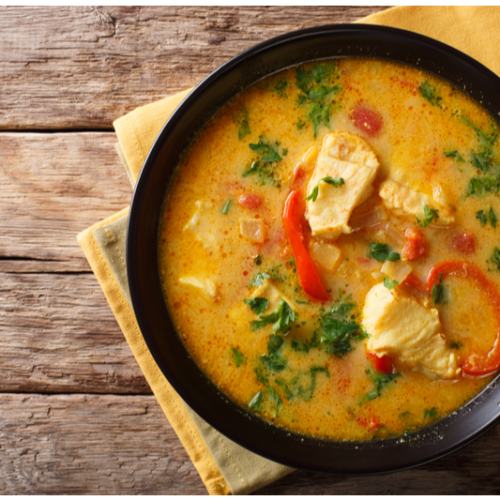 Baked Moqueca De Peixe
This Brazilian fish dish, napped with a velvety coconut sauce, uses an exciting combination of textures, flavors, and colors, and reheats like a dream.
Ingredients
6 fish steaks, something firm like tuna or cod

Salt and freshly ground pepper

½ cup lime juice

5 cloves garlic, crushed

8 tablespoons olive oil, divided

2 red hot peppers, finely sliced into rounds

5 green onions, chopped

3 onions, coarsely chopped

3 red bell peppers, sliced into rounds

2 green bell peppers, sliced into rounds

5 tomatoes, sliced

1 bunch cilantro (or parsley), chopped

½ bunch chives, chopped

2 1/2 cups coconut milk

½ teaspoon curry powder

1 teaspoon cumin
Instructions
Pat fish steaks dry with paper towels.

Place fish in an airtight container. Season with salt and pepper. Sprinkle with the lime juice and add the garlic. Toss to combine, and marinate for 2 hours, stirring occasionally.

Place 4 tablespoons of the oil in an ovenproof casserole dish, large enough to hold the fish. Add the fish in a single layer. Scatter all of the vegetables and half of the chopped herbs over the fish, and then pour the remaining oil over the top. Pour the coconut milk around the fish, and gently stir in the curry powder and cumin and some more salt and pepper. The liquid should almost or barely cover the fish. If necessary, add a little water to cover.

Bake fish covered, for 30 minutes. Five minutes before the end of cooking, sprinkle the fish with the remaining chopped herbs.

Taste and correct seasoning if necessary with more lime juice, salt, and pepper.