Looking for an easy-to-make yet elegant treat to put out on the table for company? These spiced candied pecan are the perfect candidate. They aren't hard to make, look great in a candy dish, and taste delish. Not to mention, they keep forever, in a tightly closed mason jar.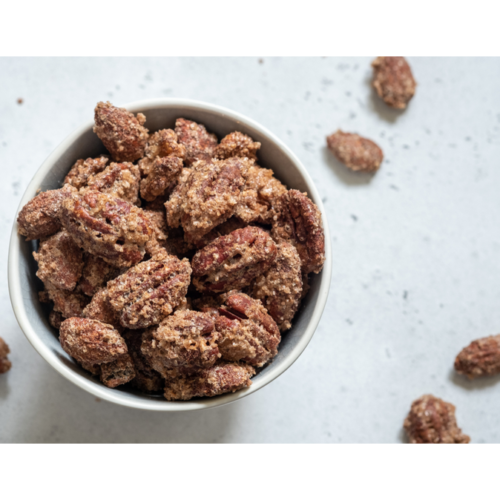 Spiced Candied Pecans
These toasty, crisp pecans with their sweet and delicate crunch will add sparkle to your coffee table when you're hosting company, but they also look great in a gift bag. They are so easy to make, and store well, too! Pull them out of your pantry whenever you're craving a spicy nosh!
Ingredients
1/2

cup

sugar

1

teaspoon

ground cinnamon

1/4

teaspoon

ground allspice

1/4

teaspoon

salt

1

large

egg white

1

tablespoon

water

1

pound

pecan halves
Instructions
Mix sugar, cinnamon, allspice, and salt together in a small bowl.

Whisk the egg white and water together in a large bowl until foamy. Stir in the sugar mixture and toss the pecans in this egg white and sugar spice mixture until they are evenly coated. Spread the pecans on a baking sheet.

Bake in the preheated oven for 10 minutes. Stir the pecans and spread into a single layer. Continue to bake, stirring every 10 to 15 minutes, or until pecans are evenly browned, from 30 to 50 minutes.

After cooling, store in a cool place in a tightly closed mason jar. The pecans will stay fresh for 1-2 months.