Tofu, lettuce, and tomato sandwiches, or TLTs, are a treat and are easy to prepare—a boon for the chef who's short on time. The TLT sandwich, as we like to call it, stands in for the popular treif sandwich known as a "BLT." I have no idea how close my TLT sandwiches come to the real treifa deal, but we like them just fine.
It's a funny thing, but men, as opposed to women, enjoy charred food, so I always brown the tofu to different degrees of doneness: burnt for the guys, golden brown for the gals. Slice some tomatoes, and check some leaf lettuce, brown the tofu, and voila. All that's left is choosing the type of bread you prefer. Some like it on white bread, others on rye. Give the bread a shmear of mustard and you're good to go.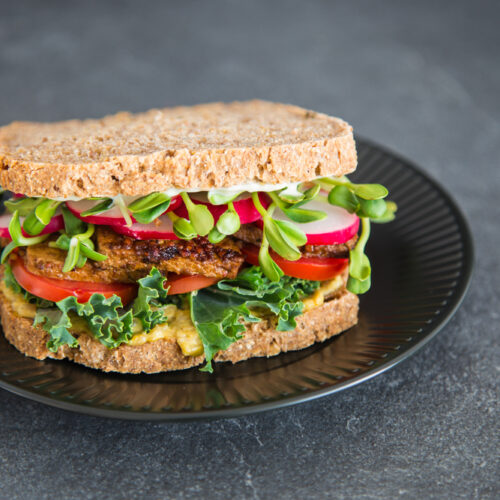 Tofu, Lettuce, and Tomato Sandwiches (TLT)
This delicious, kosher rendition of the treif BLT is absolute genius. Does it taste like the real thing? For those who have never tasted the real thing, there's no way to know, but it sure is super yummy in the tummy. Slice the tofu early in the morning and let the slices marinate in a bath of soy sauce and granulated garlic, until it's time to cook lunch.
Ingredients
1 ½ pounds firm tofu

½ cup soy sauce

1 teaspoon granulated garlic

Oil for frying

Paper towels for draining the fried tofu

Sliced bread (rye, white bread, or whatever you like best)

Brown or Dijon mustard

Leaf lettuce

Sliced tomatoes
Instructions
Slice tofu thinly, and layer the slices in a square or rectangular storage container or a 9x13 pan. Top each layer of tofu with some of the granulated garlic and soy sauce. When all the tofu has been sliced and layered, pour any remaining soy sauce over the top, sprinkle with any remaining granulated garlic, then cover and refrigerate. Marinate for at least 3 hours and up to 12 hours (can do this the night before), turning the slices occasionally, to ensure that all the slices are coated with the marinade.

Cover a baking sheet with three layers of absorbent paper toweling. Pour ¼-inch deep layer of oil in a nonstick pan and place on high heat. When oil is hot, add the some of the tofu slices to the pan to make a single layer, fry until brown, then turn and brown the tofu slices on the second side. Remove tofu slices and drain on paper towels. Repeat, until all the tofu has been browned and drained, using fresh oil and paper toweling as needed.

Spread mustard to taste on your bread of choice, add lettuce, sliced tomatoes, and a layer of the tofu. Slice the sandwiches into halves and serve.