Deviled eggs are an old-fashioned dish—the kind you shouldn't mess with. Don't try to innovate or add unusual (read "weird") ingredients. Just stick to the tried and true: eggs, mayo, grated onion, Tabasco, and some good Dijon mustard. Maybe just a touch of salt. Sprinkle the top with sweet paprika and Bob's your uncle, as they say in the UK.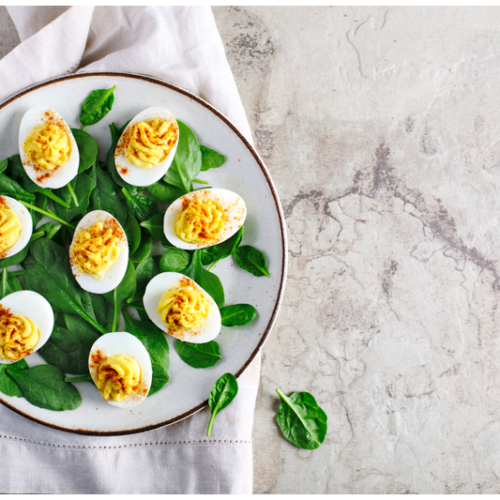 Quick Deviled Eggs with 6 Ingredients You Probably Already Have in Your Pantry
We love these little gems you hold between your fingers. Four bites takes one down, often less. And they look so great with so little fuss! Great for picnics, parties, or for a light repast at home.
Ingredients
6

large eggs

2

teaspoons

grated onion with juice

1

tablespoon

mayonnaise

3/4

teaspoon

Dijon mustard

pinch

of salt
Instructions
To boil eggs: Bring eggs in their shells to a boil in salted water. Simmer for 15 minutes. Drain some of the water off and then set the pot into the sink. Run cold water over the eggs in their saucepan, making sure the cold water hits each egg, in order to stop the cooking process. When the outside of the pot is cool to the touch, add several ice cubes to the water, to chill the eggs quickly. When ice is melted, drain off the water and refrigerate eggs for 3 hours or up to five days, before proceeding to next step.

Peel the eggs and halve them lengthwise. Carefully scoop out the yolks with a small spoon, keeping the surrounding whites intact. Place the yolks on a plate.

Roughly mash the yolks with a fork. Add remaining ingredients, and mix with fork until well combined. Try not to overmix, to keep the filling light. If mixture seems dry, add a bit more mayonnaise, or until pleasantly moist. Taste filling for seasoning and correct if necessary.

Spoon yolk filling carefully into whites and sprinkle with paprika, being careful not to get any on the whites. Arrange on a platter and refrigerate until serving.